Hello Miners!
Cryptonews has mentioned us in one of its press releases, which came out early yesterday morning.
The news is as follows:
Today, bitcoin and cryptocurrency mining is still a profitable alternative, as long as you choose the right digital asset and the right hardware. Minando Voy is a company that specializes in selling equipment for mining cryptocurrencies. It offers the necessary guidance to make mining an activity that generates substantial profits.
It is a company that was born in Spain in 2019.. Its main objective is to demonstrate that digital asset mining is profitable..  Mining I go has become one of the leading companies in the industry, and has expanded beyond Spain to countries such as Argentina, Mexico, Honduras, France, Italy and the United Arab Emirates.
To continue its international expansion, in 2021 Minando Voy launched a distributor brand in the Americas. In addition, it opened its first physical store in MadridSpain, known as Bitcube. With the goal of internationalization in mind, the company chose a name that would be well received around the world.
Both in its physical store and online, the Minando Voy team offers personalized advice to its customers, and helps them to choose the right mining hardware based on their budget and needs. It also offers after-sales service to address any type of concern related to the product.
The most outstanding cryptocurrency mining equipment from Minando Voy
At present, the Spanish mining company has more than 1,000 machines at its disposal. in stock. It has all types of hardware, from the most economical, ideal for those who are starting out, to the most advanced and more profitable. Some of the most outstanding models are:
Antminer K7 (TOP 1)The ASIC: with a consumption of 3080 Watts/hour, it generates approximately USD 30 per day. This ASIC mines the EAGLESONG algorithm, whose only currency is Nervos.
Antminer Ka3 (TOP 2): designed for the Kadena cryptocurrency, has a mining power of 166Th and a consumption of 3,200 Watts/hour. It generates about USD 25 per day.
Antminer L7 (TOP 3, 4 and 5): depending on the model, it has a mining power of 9.5GH, 9.16GH and 9.05GH, respectively. It generates between USD 20 and USD 22 per day.
Antminer S19 XP 141TSHA-256 (BTC) algorithm mining only, with a maximum hashrate of 141TH. It is the most powerful air-cooled Bitcoin mining machine on the market today. It generates USD 10 per day.
Antminer L3+ 504MhsOne of the ASICs that consumes less energy and has more options for mining cryptocurrencies. With a mining power of 504mhs and a consumption of 800 Watts/hour, its daily profitability is USD 2.
Avalon 1066 50T: today is one of the most used ASICs to enter the world of mining or to create a farm, as it is a very stable machine. It has a mining power of 50T and an electrical consumption of 3,250 Watts/hour. Its daily profitability is USD 3.40.
Antminer S19 90T: has a mining power of 90T and a consumption of 3,250 Watts/hour. It is one of the best-selling models for Bitcoin mining (SHA256). Its daily profitability is USD 6.10.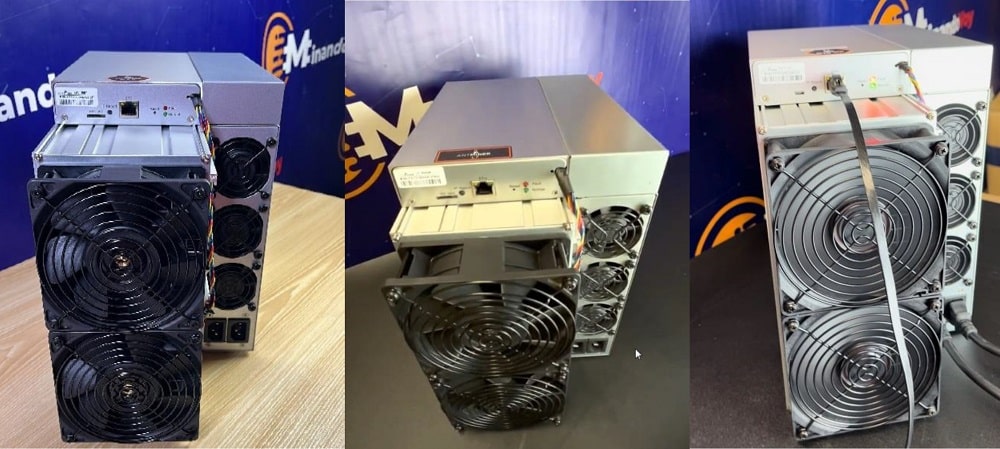 For a limited time only, Minando Voy has an offer for you. In its online store you can get a discount of 200 euros on purchases over 3,000 euros if you use the code CRIPTONOTICIAS200 (excluding the purchase of TOP 5 ASIC).
Keep up to date with Minando Voy products and promotions visit their web site and social networks: Instagram, TikTok y YouTube.